The Django Camp Core Repertoire
Our "Core Repertoire" consists of a collection of tunes you can use to prepare for Django Camp. If you don't learn them, you won't be alone and you'll be fine. But if you do it will be that much easier to find people to jam with while you are here. And since the teachers know we've recommended these tunes to you they may choose to use them in their classes. So working on these songs well in advance of Django in June is a good investment of time and energy.
Our Core Repertoire is divided into two "tiers of standard Gypsy Jazz songs:
Tier 1 is where everyone planning to attend this event should begin building a jam repertoire. It is made up of standards that will be familiar to any experienced Gypsy jazz musician. Learn as many as you can by heart—et voilà, you're in.
Tier 2 offers a few more compositions we recommend for people who already know all the Tier 1 tunes. Usually we draw these from the repertoire of artists we've invited to join us this year. Usually the tunes are pretty well-known, but maybe not as familiar as those in Tier 1. In any case, they provide experienced Gypsy jazzers more, and maybe some new, common ground for jamming.
Tier 1 & 2 Tunes for 2022
Jack Soref has by now prepared two collections of Gypsy jazz standards (one new this year) so we'll select all our Core Repertoire this year from those two volumes. All the tunes are very well-known, so they will serve you well in almost any Gypsy jazz jam you may have the pleasure of joining. In the pdf you can download below, this year's Core Repertoire is listed. The tunes are organized by day in this document because someone will lead a morning warm-up on a select group of tunes daily.
You'll find sheet music for all these tunes — and in some cases, other support materials — in the sections that follow.
Gypsy Jazz Standards Volume 2
Many of you already have Volume 1, so we'll start with what's new: Jack's second collection of GJ Standards. You can download it below in the format of your choice.:
Gypsy Jazz Standards, Vol 2 – Standard and TAB
Gypsy Jazz Standards, Vol 2 – Standard
Gypsy Jazz Standards, Vol 2 – Standard Bb
Over the past several months, as the booklet was being prepared, Jack and his compadres produced videos giving you introductions and or insights into some of these tunes. You'll find all those videos here:
Jack's Gypsy Jazz Standards, Volume 2, in progress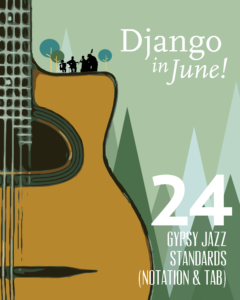 Gypsy Jazz Standards Volume 1
In 2018 Jack Soref put together a booklet of 24 Gypsy Jazz Standards available in three formats. Tier 1 is all about learning the most commonly known tunes, so it's a useful reference for any year, anywhere. Download it here in the format of your choice, then read on for other resources we're making available to help you learn them:
24 Gypsy Jazz Standards – Standard and TAB
24 Gypsy Jazz Standards – Notation Only
24 Gypsy Jazz Standards – Bb Edition
Support Materials for Tier 1 Tunes
For everyone: Swing by this page for reference recordings and play-along rhythm tracks for all the tunes in that booklet:
Support Materials for 24 Gypsy Jazz Standards
For Rhythm Guitarists: Jack Soref prepared a companion booklet for guitarists with some suggested chord voicings to use on each of the 24 GJ Standards. He has also produced a video with demos of many of these chord voicings and helpful pointers for people learning them for the first time. Here's the link to the chord-shape companion booklet, and below that you have Jack's video.