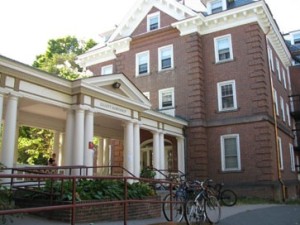 The dorm is not just where we sleep at Django in June. In fact, some of us get very little sleep during the event! The dorms are our home base, where virtually all the classes, jamming and hanging out happen. If you want the full Django in June experience—including all the chance encounters, the impromptu jams, the opportunities for informal instruction and personal connection—stay in the dorms with us.
In recent years we have been in the same cluster of dorms on the Smith College campus, all near our home base of Northop and Gillett houses.  These buildings offer spacious meeting rooms on the first floor, lovely architectural features, private and secure bedrooms for snoozing or stashing your instrument, leafy outdoor jamming spaces and close proximity to town and to the dining hall.
Most of the upstairs rooms in these dorms are intended to be used as singles—that is, as private rooms—so the default we offer is a private room. There are some rooms large enough to serve as doubles, however, so if you'd prefer to share a room with someone else, that's an option as well. Please note that we are charged by Smith by the person, not the room, so double rooms cost the same per person as a single. Also note that "double" rooms do not have double beds, but two singles. All rooms have shared bathrooms on the hallway: it's a dorm. A really nice dorm…but still a dorm.
We offer an on-campus meal plan for Django Campers. Sharing meals allows us to stay not only well-fed during our time here, but well-connected with each other as well. The folks at Smith are happy to accommodate a variety of special dietary needs so long as advance arrangements are made.  For all these reasons, we recommend going this route rather than fending for yourself for meals. But if you do opt out of the meal plan, downtown Northampton is only a 10 minute walk away and offers many fine options at various costs.
Please note that especially as the event has grown over the years it has gotten more challenging for Smith to accommodate last-minute changes. More than anything, that means you should not count on being able to get a room or meals if you sign up at the last minute. The earlier you register, reserve a room and sign on for meals, the better.