This is where, in the coming weeks and months, we'll post a variety of resources that will help you get in on the jamming and get the most out of classes at Django in June.
Below we'll provide you with lead sheets and links to other resources for this year's Core Repertoire, but you may also be interested in this larger collection of material we've used over the years, all notated and compiled by Jack Soref:
Django in June compilation book.
Enjoy!
About the Django Camp Core Repertoire
Our "Core Repertoire" consists of a selection of tunes we suggest you prepare before coming to Django Camp.  If you don't you won't be alone, and you'll be fine. But if you do it will be that much easier to find someone else at your level of ability to jam with while you are here. And since the teachers know we've recommended these tunes to you they may choose to use them in their classes. So working on these songs well in advance of Django in June is a good investment of time and energy.
In addition to providing lead sheets and backing rhythm tracks we will also be preparing suppleme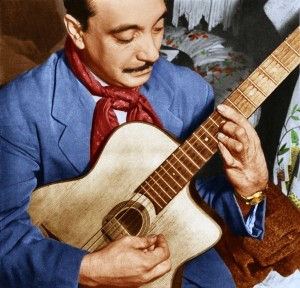 ntary materials for each tune—solo transcriptions, etudes, etc. These will be drawn not only from the work of guitarists, but from violinists, mandolinists, accordionists and clarinet players as well. So even if you know the tune be sure to check out what else is in our little goodie bag. With a little sweat equity on your part, these materials will help you move from playing through the melody to really blowing over the changes.
Core Repertoire 2017
Here, in no particular order, are the tunes we expect to include in our Core Repertoire this year. If the tune is highlighted that means there's a linked page devoted to it ready and waiting for you. We'll keep adding those linked pages at a pace of about one a week through February and March. Go get 'em!
Jack has also prepared chord sheets for each of these tunes. Each sheet includes a couple different ways a rhythm guitarist might voice the chords in the progression. These are not meant to be authoritative of exhaustive of one's options; they are intended to be helpful! You'll find them here:
Waltz Repertoire
With Marcel and Cedric Loeffler and Christophe Astolfi all on board this year we simply must give special attention to the swing valse tradition. And so we shall. We encourage you to work on and bring your own favorite waltzes and we'll be sure to create both formal and informal opportunities to share them.
Whatever else you've got going, we've chosen these two to work on together in a focused way. Get the best head start you can by beginning your study of them as soon as the materials come available: