In the coming weeks and months, this is where we'll post a variety of resources that will help you get in on the jamming and get the most out of classes at Django in June 2018.
Please note that this year, for the first time, we'll be offering a full day of facilitated jamming on just these tunes before Django Camp gets officially under way. You can learn more about this special offering here.
About the Django Camp Core Repertoire
Our "Core Repertoire" consists of a collection of tunes you can use to prepare for Django Camp.  If you don't, you won't be alone and you'll be fine. But if you do it will be that much easier to find people to jam with while you are here. And since the teachers know we've recommended these tunes to you they may choose to use them in their classes. So working on these songs well in advance of Django in June is a good investment of time and energy.
Our Core Repertoire is divided into two "tiers":
Core Repertoire 2018
Tier 1 Tunes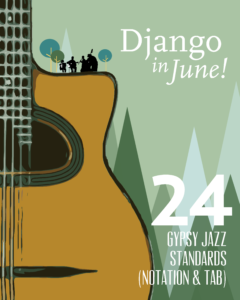 For 2018 Jack Soref has prepared a booklet of 24 Gypsy Jazz Standards available in three formats. You can download it in the format of your choice using the links below:
Download 20 Gypsy Jazz Standards
Then be sure to swing by this page for reference recordings and play-along rhythm tracks for all the tunes in that booklet:
Tier 2 Tunes
In the coming weeks we'll flesh out this list of Tier 2 Repertoire one tune at a time. Just follow any hyperlinked title to a page where you'll find lead sheets, play-along rhythm tracks and reference recordings. Here's what we have for you so far:
Other Resources
We won't be directly referencing this collection this year, but it's full of great tunes we've used in the past, all notated and compiled by Jack Soref. Feel free to download…and enjoy!
Django in June compilation book.