(Please Note: The information you see here and on most pages throughout the website is for Django in June 2018.  We've left it here so people can see how we have done things in the past. The website will be fully updated for 2019 by the first week of January.)
This year (2018), for the first time, we'll be offering a full day of facilitated jamming on the 2018 Core Repertoire on Tuesday June 12, before Django Camp  officially gets under way. We call it "Meet, Greet and Play All Day." It will provide a great way to get yourself connected with other campers and jamming — before things get busy!
You can learn more about this, and other special Tuesday offerings here.
About the Django Camp Core Repertoire
Our "Core Repertoire" consists of a collection of tunes you can use to prepare for Django Camp.  If you don't learn them, you won't be alone and you'll be fine. But if you do it will be that much easier to find people to jam with while you are here. And since the teachers know we've recommended these tunes to you they may choose to use them in their classes. So working on these songs well in advance of Django in June is a good investment of time and energy.
Our Core Repertoire is divided into two "tiers":
Core Repertoire 2018
Tier 1 Tunes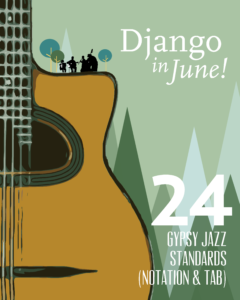 For 2018 Jack Soref has put together a booklet of 24 Gypsy Jazz Standards available in three formats.   Download it here in the format of your choice, then read on for other resources we're making available to help you learn them:
Support Materials for Tier 1 Tunes
For everyone: Swing by this page for reference recordings and play-along rhythm tracks for all the tunes in that booklet:
If learning all 24 of these tunes presents you with a big challenge, you may be interested in these guidelines we have prepared for people registered for our Meet, Greet and Play All Day Tuesday offering. Whether you are planning to attend that workshop series or not these guidelines will help you prioritize which tunes to learn and in what order:
For Rhythm Guitarists: Jack Soref has prepared a companion booklet for guitarists with some suggested chord voicings to use on each of the 24 GJ Standards. He has also produced a video with demos of many of these chord voicings and helpful pointers for people learning them for the first time. Here's the link to the chord-shape companion booklet, and below that you have Jack's video.
Tier 2 Tunes
Follow any hyperlinked title below to a page where you'll find lead sheets, play-along rhythm tracks and reference recordings for each of our "Tier 2" Core Repertoire:
Other Resources
10 French Chansons
Alicia Baker and Christine Tassan  are both terrific singers as well as instrumentalists and they will be leading a couple of "special topic" sessions devoted to French songs—as in, with lyrics, in French. These would make a great addition to your instrumental GJ repertoire.  Here's a booklet of 10 songs they've compiled: 10 French Chansons
Look for this session to be offered twice, with different tunes each time, during the 4-5:30 time slot at Django Camp. On y va!
This year several of the artists on the Django in June teaching staff are also on the ever-expanding roster of Denis Chang's DC Music School: Angelo Debarre, Sébastien Giniaux, Tcha Limberger and Gonzalo Bergara. Denis has generously offered to share selected videos and transcriptions from those artists with us—and so, with you—to help you get the most out of your Django in June experience.
In typical Denis fashion, he has done so in an ingenious way: by sharing each artist's take on "All of Me" and "Minor Swing". Tunes don't get more standard than that, and the side-by-side study of their contrasting approaches makes for really interesting study. You'll find all those materials on this page of this website: DC Music School Bonus Materials.
Give Denis a big thanks when you see him, and support DC Music School (and the artists involved) by purchasing full lesson packets…right here.
Lead Sheets From Past Years
Here's useful reference for rhythm guitarists getting a grip (so to speak) on the chord voicing commonly used in this style: Standard_GJ_Chord_Shapes
We won't be directly referencing this collection this year, but it's full of great tunes we've used in the past, all notated and compiled by Jack Soref. Feel free to download…and enjoy!
Django in June compilation book.