As we did last year, we'll be offering a full day of facilitated jamming on this year's Core Repertoire on Tuesday June 11, before Django Camp officially gets under way. We call that daylong warm-up, "Meet, Greet and Play All Day." It provides a great way to get yourself connected with other campers and jamming before things get busy. You can learn more about this, and other special Tuesday offerings here.
About the Django Camp Core Repertoire
Our "Core Repertoire" consists of a collection of tunes you can use to prepare for Django Camp.  If you don't learn them, you won't be alone and you'll be fine. But if you do it will be that much easier to find people to jam with while you are here. And since the teachers know we've recommended these tunes to you they may choose to use them in their classes. So working on these songs well in advance of Django in June is a good investment of time and energy.
Our Core Repertoire is divided into two "tiers":
Tier 1 is where everyone planning to attend this event should begin building a jam repertoire. It  is made up of standards that will be familiar to any experienced Gypsy jazz musician. Learn as many as you can by heart—et voilà, you're in.
Tier 2 offers a few more compositions we recommend for people who already know all the Tier 1 tunes. Usually we draw these from the repertoire of artists we've invited to join us this year. Usually the tunes are pretty well-known, but maybe not as familiar as those in Tier 1. In any case, they provide experienced Gypsy jazzers more, and maybe some new, common ground for jamming.
Core Repertoire 2019
Tier 1 Tunes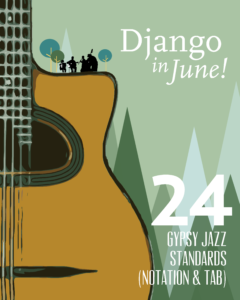 In 2018 Jack Soref put together a booklet of 24 Gypsy Jazz Standards available in three formats.  Tier 1 is all about learning the most commonly known tunes, so we'll use this booklet again in 2019. Download it here in the format of your choice, then read on for other resources we're making available to help you learn them:
24 Gypsy Jazz Standards – Standard and TAB
24 Gypsy Jazz Standards – Notation Only
24 Gypsy Jazz Standards – Bb Edition
Support Materials for Tier 1 Tunes
For everyone: Swing by this page for reference recordings and play-along rhythm tracks for all the tunes in that booklet:
Support Materials for 24 Gypsy Jazz Standards
For Rhythm Guitarists: Jack Soref has prepared a companion booklet for guitarists with some suggested chord voicings to use on each of the 24 GJ Standards. He has also produced a video with demos of many of these chord voicings and helpful pointers for people learning them for the first time. Here's the link to the chord-shape companion booklet, and below that you have Jack's video.
Tier 2 Tunes
The list below shows the tunes we've selected as "Tier 2" Core Repertoire for 2019. In January and February we will be adding support materials for each of these tunes—lead sheets, play-along tracks, etc. You can access whatever we have at this point—at a minimum, a reference recording or two—by following the hyperlinked title of the tune in the list below.
Other Resources
We'll be making even more resources available here in coming weeks and months. We'll let pre-registered Django Campers know as we do.