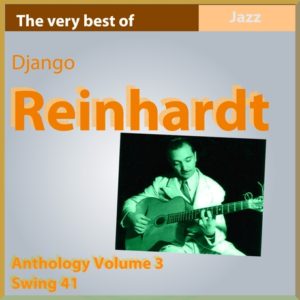 Here's another in Django Reinhardt's series of "Swing" compositions (as in, "Swing '39,"  "Swing '42″…) He recorded this one twice: first in 1940 and again in 1947. Have a listen to both by following the linked dates below. (Thanks to Djangopedia for the personnel info.)
December, 1940 – Paris – Hubert Rostaing (cl), Alix Combelle (cl,ts) Django & Joseph Reinhardt (g), Tony Rovira (b), Pierre Fouad (d)
August, 1947 – Paris – Django Reinhardt (elg), Maurice Meunier (cl), Eugene Vees (g),Emmanuel Soudieux (b), Andre Jourdan (d)
Below you'll find links to:
lead sheets,
Django's 1940 arrangement,
solo transcriptions (for guitar, clarinet and accordion)
and backing rhythm tracks.
Ready? Dig in…
Simple Lead Sheets
To get started on this one, Jack Soref has prepared a simple lead sheet in three different formats:
Arrangement From the 1940 Recording
For those who want to dive deeper into the arrangement you hear on the 1940 recording, Jack has prepared the following, which includes harmonization of the melody, fills used behind Django's solo on the A section, and a harmonized "head out" in the new key of Ab. (I ask you, is Jack the best, or what?)
For Guitar: Django's 1940 solo
Here you have a complete transcription of Django's solos from the 1940 performance (which you can hear on youtube by following the links at the top of the page.) This comes to us courtesy of both Jack Soref and Ben Givan.
Swing 41 – Django solo transcription
For Clarinet: Maurice Meunier's solo, 1947
Django's 1947 recording features a fine solo by clarinetist Maurice Meunier. Susanne Ortner has kindly provided this transcription (in concert Bb) of that performance. You can hear the performance by following the link to the 1947 recording toward the top of this page.
Swing 41 – Maurice Meunier solo transcription
For Accordion: Tony Murena plays Swing '41
The great Tony Murena recorded Swing '41 in 1943. Thanks to my friend Chris Haynes and our own Dallas Vietty for transcribing the first 1:15 of that performance, available for download as a pdf right here:
Swing 41 – Tony Murena transcription
Below you can hear the performance from which that transcription is taken. Although whoever posted this to youtube credits Django Reinhardt as a performer, there's no way he was on this recording. According to Scot Wise, the guitar solist you hear is almost certainly Rene "Didi" Duprat, who worked a great deal with Murena.
Play-Along Rhythm Track
You can find a play-along rhythm track for Swing 41 on this page of Pierre Nauleau's website devoted to the Nouveau Quintette de Django Reinhardt. I encourage you to roam elsewhere on that site as well. You'll find all sorts of interesting material—recordings, transcriptions, grilles, photos, etc.— related to Django's work throughout the 1940's.