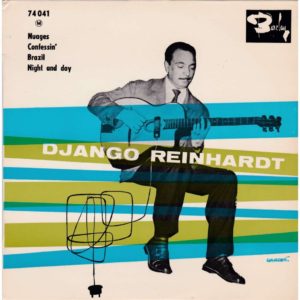 Cole Porter's "Night and Day" was written for the 1932 musical Gay Divorce. It is among the most popular standards from the American Song Book played by Gypsy jazzers.
Django Reinhardt recorded the tune no fewer than 5 times over a 15 year period. You can give each of these varied performances a listen by following the hyperlinks below.  (Thanks to Djangopedia for the information on personnel.)
The tune is most commonly performed by jazz manouche guitarists these days in the key of D, so we'll follow that lead. Below you will find lead sheets in a variety of formats, links to backing tracks and select solo transcriptions organized by instrument. Unless otherwise indicated, you have Jack Soref to thank for the written materials.
Lead Sheets
Backing Tracks:
Supplementary Transcriptions
For Guitar
For guitarists we have two transcriptions to share…
The first is Django's solo from his 1938 recording of "Night and Day" with the QHCF.
Night and Day Django Solo  (transcription)
The second is from Serge Krief, who will be joining us at Django in June this year. The performance is on Serge's Hard Swing album. Transcription courtesy of Nathan Royal.
Night and Day Serge Krief (transcription)
For Violin
Grappelli Night and Day (transcription)
The transcription above is of Stephane Grappelli's solo from his 1938 performance of the tune with Django.  To hear (and download) this performance, see the first item under "For Guitar," above.
For Mandolin:
For mandolinists we have several items. First, here's Jack Soref's mandolin adaptation of Stephane Grappelli's 1938 solo on N&D. Word is that it lays very well on the mando fretboard! To hear (and download) this performance on violin, see the first item under "For Guitar," above.
Grappelli Night and Day Mando (transcription)
We also have this welcome video from Tim Connell who will be leading our mando team (again) this year.  After some opening remarks Tim walks you through an etude and some chord voicings you might use on Night and Day. Links to downloadable pdf's of both those are right here, followed by the video:
Night & Day Mando Chord Voicings
For Clarinet:
And now, for something different, here's a transcription of an excerpt from one of Artie Shaw's recordings of "Night and Day." According to the youtube posting, this performance is from 1946, in Los Angeles. The transcription begins at around the 1:45 mark in the audio included here. The original was in concert Db, so Jack has provided it here in both that key (for you to play along with) and in the key you clarinetists will likely encounter in djams: D natural.
artie shaw night and day Dflat concert (Bb chart)  (transcription)
artie shaw night and day D concert (Bb chart)  (transcription)