Tickets for Friday, June 16th featuring Marcel Loeffler
Tickets for Saturday, June 17th featuring Serge Krief and Tim Kliphuis
Greetings, and thanks for your interest in Django in June's 2017 concerts at Northampton's historic Academy of Music. Before reading about this year's concerts, please take note of two preliminaries:
(1) One thing our audiences have learned over the years and that we invite you to embrace is that no one knows for sure who is going to perform at a Django in June concert until it's over. This event is first and foremost a music camp. As the artists on our staff get to know each other over the course of the week, connections get made, combos get formed, and chaos organizes itself into something beautiful. What you see below are the names of the people around whom that beauty will be self-organizing.
(2) Within the descriptions below you'll see each artist's name highlighted at least once. That link will take you to the performer's profile on our Staff and Artists pages, where you can learn more about them and enjoy video and audio that features them.
Friday, June 16

Marcel and Cédric Loeffler
Duved Dunayevsky and Fiona Monbet
Academy of Music, Northampton
$25 advance / $30 door—Get Tickets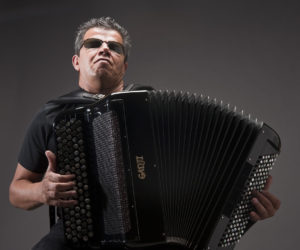 Like so many of the best musicians who have visited Django in June over the years, Marcel Loeffler is an artist of wide-ranging musical tastes and abilities. We have invited him, however, not so much for the reach of his branches but for the depth of his roots. Born into a manouche family of musicians in 1956, Loeffler was introduced to la musette and jazz manouche by his guitarist father, took up accordion at 5, and was performing by the age of 8. He performed for some two decades with Mandino Reinhardt, first as members of the group Sweet Chorus in the 1980's, then Note Manouche. Since that time he has worked as a group leader and A-list sideman with Bireli Lagrene, Wawau Adler and many of the very best musicians playing what we call Gypsy jazz. Marcel will be accompanied by his son, Cédric, on rhythm guitar. The Loefflers' appearance at Django in June will be their only performance on this, their first visit to the US.
The evening opens with guitarist Duved Dunayevsky and violinist Fiona Monbet. Duved is an Israeli currently based in Paris—the toughest town on the planet for a Gypsy jazz guitarist to make even a ripple. Duved, though, is making waves playing old-school Django while saying something very much his own. Fiona Monbet won the SACEM'S "Young Talent Award" 3 years running a decade ago (2005, 2006, 2007) and now not only plays with the best, but is counted among them.
Saturday, June 17 
Serge Krief and Tim Kliphuis with Emmanuel Kassimo
Giacomo Smith and Kourosh Kanani
Academy of Music, Northampton
$25 advance / $30 door—Get Tickets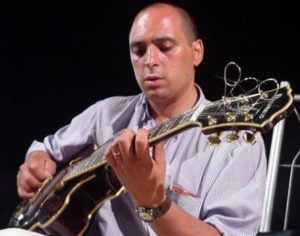 In the world of Gypsy jazz, as in so many others, there are two kinds of "big names." There are, of course, the "big names" known to anyone with a passing familiarity with the genre. But then there are those known only to other musicians and more serious fans of the tradition. This variety of "big name" is often a player who has been putting out quality material for decades, who has taught and influenced many other aspiring pros, and who has long set the bar that others strain to clear.
Serge Krief is this latter sort of "big name" among Parisian Gypsy jazz guitarists.  A teacher of many of the artists we've featured on the Django in June stage over the years, Krief is himself forever a student following his passions, developing his skills and widening the horizons of his listeners. Here are three B's that may help you catch a glimmer of Serge's long and varied career:
Babik—Django's son, with whom Krief performed in the 1980's;
Bireli—with whom Krief was featured in the John Jeremy documentary, Django's Legacy, and who many years later invited Krief to join him in his now-famous "Jazz à Vienne" concert;
Benson—yes, George, with whom Krief has shared the stage and mutual admiration.
One big name deserves another, so we're pairing Serge with one of the biggest names in Gypsy jazz violin, Mr. Tim Kliphuis. A regular on the Django in June stage since its second year and a recognized expert in the jazz violin of Django's most memorable counterpart, Stephane Grappelli, Tim teaches string improvisation at the Conservatoire of Amsterdam and is professor of jazz violin at the Conservatoire of Tilburg, Holland. He offers workshops on Grappelli's style around the world, puts on his own Grappelli-Django Camp in Holland and has produced a rich and growing compendium of instructional resources and recorded works. He has also produced a lot of smiles and applause for us over the years. We look forward to more this year.
Kicking things off Saturday night will be clarinetist Giacomo Smith and guitarist Kourosh Kanani. Both musicians join us from London, where they mostly play trad and Gypsy jazz in separate ensembles. Occasionally, they tell me, they get to play together. Always, they tell me, they love that. Here's betting our audience will too.