Once Django Camp gets under way, this is where you will find a detailed schedule of each day's classes and other activities. We won't post one of those, though, until much closer to the event. In the meantime, we hope the information below will satisfy your curiosity about what to expect and how you'll fit in.
For everyone…
You are welcome to arrive as early as Monday after 1 pm. Early-arrivals have until orientation the following day to chill and jam at no additional cost for tuition.
The first official happening is the Camp Orientation: Tuesday night, 7:30 in the Davis Center.
Wednesday through Saturday, at 9 in the morning there's a 50-minute warm up on tunes from this year's Core Repertoire. (For more on that, see Get Ready Musically.)
Over the course of the rest of those days, there are three 90-minute class periods (at 10, 1:30 and 4 o'clock.)
In addition to formal instruction, our days are scheduled with plenty of time for jamming and informal guidance from the artists on our staff and the many experienced musicians who attend.
For Guitarists…
Most guitarists follow a daily schedule that is pretty straightforward: one rhythm class, one lead class and one facilitated jam session or special offering per day. For those who want to focus on rhythm only, we always have a rhythm specialist on board, so you can get in an extra rhythm class if you wish.
Guitar classes are organized into 4 level of ability, ranging from intro to expert. See the Level Guides here.
You choose with whom you would like to work from class to class, so in theory you have the opportunity to attend a class with anyone listed on our guitar staff. Since classes are organized by level, however, you'll probably want to chose your classes on the basis of level first, teacher second. If you really want to attend a class by a teacher offering classes at a level beyond your own, we ask that you audit rather than actively participate.
We shoot for an overall student/teacher ratio of around 9/1. If you find yourself in a class with many more students than that, chances are someone else nearby is getting a semi-private lesson. Go find them!
For Non-Guitarists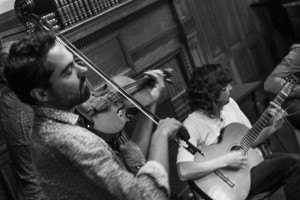 For other instruments, the class times and suggested daily repertoire are the same, but the structure and content is different (since, for example, violinists don't need a daily rhythm class.) For all instruments, the content of the classes is at the instructor's discretion.
Since facilitated jams are for mixed instrumentation—and organized by level—even non-guitarists may want to check out the page devoted to Level Guides.