Django in June T-shirts and (baseball cap style) hats are on order and we'll have them for sale at Camp. If you'd like to reserve one for yourself now, please do.  Immediately below you see the image that Jack Brown did for the T. Take a close look at the mouth and moustache. 🙂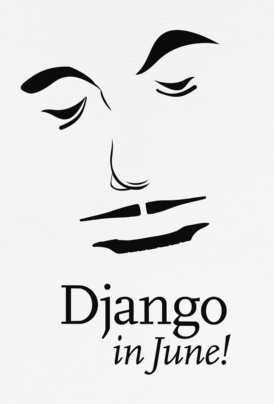 Below you see your options:
A white T-shirt (image in black)
A blue T-shirt (image in white)
And two color combinations for hats: black lettering on a mustard colored hat, and white lettering on a blue hat. These have only the DiJ logo, not the T-shirt image.
Black on White

White on Blue

Color combos on the hats.

Ready to Order?