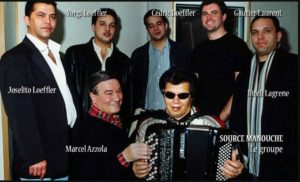 If you can read past (and forgive) my modest abilities as a translator, here you have the opening lines of cristof's review of Marcel Loeffler's 2005 release, Source Manouche, on DjangoStation.com.
There are those records that, without anyone knowing why, carry you away. From the first listen, the pieces seem familiar and inevitable. With no swagger, it just swings. Not that devastating swing that wants to carry everything away with it, but an intoxicating swing that obsesses. Sure, technique and virtuosity are there, but at the service of phrasing. Here, simplicity and emotion are paramount. It is in family of blood and heart that this album has its source … manouche.
Our last Core Repertoire tune for 2017 is the first cut on that CD, and everything cristof has to say of the overall work could be said of this song alone, "Swing Suspens." Though a familiar tune in the Loeffler catalogue, it is not to my knowledge widely played by others. Let's do our bit to change that.
Here you have that opening track from Source Manouche with Loefflers Marcel, Cédric and Yorgui on accordion, rhythm and lead guitar, respectively.
If you can transcribe any of the solos from that recording and care to share, please do. But for our part, we just hope you'll learn the tune before coming to Django in June. (My top secret plan—shhhh!—is to have a bunch of us play it for Marcel and Cédric at orientation. What a welcome!) So here's the tune written out in several formats…
For Accordion
Here you have Marcel's own written presentation of the song, taken from his website:
Lead Sheets
(Please note: these are corrected versions uploaded 5/27/17)
Swing Suspens Standard and TAB