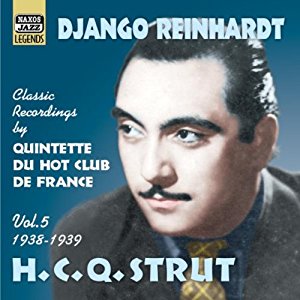 Django only recorded this tune one time—August 25, 1939—the same day he recorded "Undecided" with the young Beryl Davis on vocals. Also on mic that day were Stéphane Grappelli on violin, Joseph Reinhardt, Eugène Vées, and Pierre "Baro" Ferret on guitar and Emmanuel Soudieux on bass. Here's a link to the audio of that performance:
HCQ Strut — 1939 — featuring Django Reinhardt and Stéphane Grappelli.
Simple Lead Sheet
If you don't already know HCQ Strut we suggest you start by learning the simple version of the tune you'll find here (courtesy of Jack Soref) in a variety of formats.
HCQ Strut – Simple Version Standard and Tab
HCQ Strut – Simple Version Standard
HCQ Strut – Simple Version Bb Standard
QHCF 1939 Transcription
Here, Jack is providing you with a more literal transcription of the 1939 QHCF performance of HCQ Strut. This includes the intro and outro, as well as Grappelli's loose and lovely rendering of the melody.
HCQ Strut – QHCF inspired version Standard and Tab
HCQ Strut – QHCF inspired version Standard
HCQ Strut – QHCF inspired version Bb Standard
For Guitarists: Django's 1939 Solo
Django took two characteristically brilliant choruses on the 1939 recording of HCQ. Here you have them both, courtesy of Benjamin Givan and Jack Soref.
For Violinists
Here's Jack's transcription of Grappelli's solo from the 1939 recording. The solo begins around 2:12 in the video we've linked you to toward the top of the page.
HCQ Strut – Grappelli solo transcription
For Accordionists
Marcel Loeffler included HCQ Strut on his 2005 release, Source Manouche:
Good news: Dallas Vietty has transcribed the head and Marcel's solo from that performance for you. In this material we think there's something for everyone, from the totally accessible to the very challenging—with a good bit right in that sweet spot between those extremes. It's all brilliant, beautiful and worthy of study. You'll find it right here:
HCQ Strut Marcel Loeffler solo transcription
For Mandolinists:
Violin solos often adapt quite well to mandolin and we think that's the case on this one. So here's Jack's mando-adaptation of Stephane Grappelli's solo on the 1939 performance of this tune.
HCQ Strut – Mando TAB Grappelli solo transcription
Backing Rhythm Tracks
This backing track is from Harry Edwards' studygypsyjazz.com. (Follow that link and you'll find lots more where this came from.) Please note that this rhythm track provides the 32 bar format of the tune rather than the 34 bar version you hear in the 1939 performance. Before kicking this one off at a jam you might want to first clarify whether you are going to include the 2-bar tag every time through or only at the close of the tune. It's played both ways.