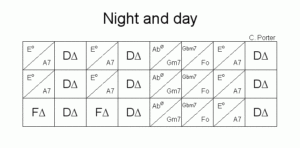 Behind the scenes several people have been busy preparing materials that will help you get in on the fun at Django in June 2017. Just last night I uploaded the first batch of said material: lead sheets, backing tracks and multiple solo transcriptions for the first of this year's Core Repertoire, the Cole Porter classic, "Night and Day." You'll find all that material right here.
We plan to add a similar collection for at least one tune a week for the next 8 weeks or so.  For more on that just swing by the Get Ready page of this website. If you'd like to be alerted when new material has been uploaded just send us an email at <djangojune15@gmail.com> with the subject heading, "Get Ready Alerts." We'll keep you in the proverbial loop. (Anyone already registered or pre-registered for Django Camp will automatically receive these alerts, so ya'll rest easy.)
Bottom line, friends: most of your learning happens at home, on your own. Django in June exists primarily to inspire you to take that on and stick with it. Whatever your level, whatever your projects, come June you'll find your peeps here, eager to hear all about it. And eager to play. Time now to get busy—and get ready.