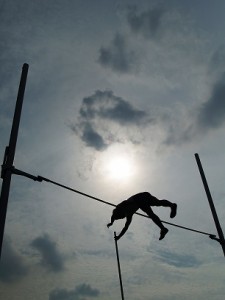 One of the ways an event like Django in June can serve you as a player is by giving you something to get ready for. Ideally, you'll have gotten your instructional money's worth before you even get here!
People come up with all sorts of creative ways to make use of DiJ in this way. Some start getting together to jam more often in the months leading up to the event. Some just head out to the woodshed on their own. Take, for one example, the challenge Anthony Parker has set for himself this year: to learn 5 Gypsy jazz solos before Django in June. (We'll embed the first installment of his series below; you can find the others on YouTube as they come online.)
That's a big job. But then, Anthony has been coming for several years now, has written an instructional book on Gypsy jazz—Manifesting Manouche—and is, well, serious about this stuff. He'll be on staff part time this summer and happy to give you some pointers.
How high you set the bar is, of course, up to you. The point is that we are still more than two months out, so even if you are starting cold you have time to take your readiness up a good notch or two. At a minimum you want to check out the Get Ready! pages of this website and make sure you have some (or all of) this year's Core Repertoire under your fingers. We've updated those pages several times recently, so pay them a visit now. And pick a good challenge for yourself.