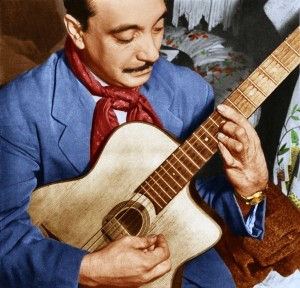 This is where we'll post a variety of resources that will help you get in on the jamming and get the most out of classes at Django in June. The materials here fall into two broad categories:
This year's Core Repertoire. These are tunes we suggest you prepare before coming to Django Camp this year.  We'll start posting those, along with various support materials, no later than March 1st. Registered Django Campers will receive cyber-pokes in the cyber-ribs whenever new material is added.
Past years' repertoire. Over the years we've prepared a bunch of these lead sheets to Gypsy jazz tunes. We've compiled these in pdf format and invite you to download it. Enjoy!
Django in June Core Repertoire and lead sheets PDF